On this page you will find some of Schuyler Houses older documentation.
---
SchuyLab Full Users Manual Version 3.0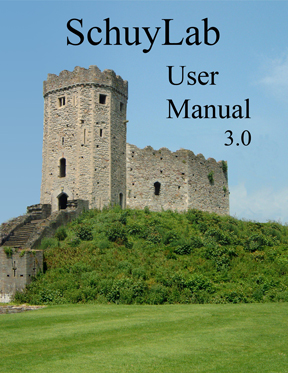 This manual contains all the information you will ever need to run SchuyLab from installation of the software to daily uses. It covers every button and configuration that can be done with SchuyLab. It also contains all the information or our expansion modules.
SchuyLab User Manual 3.0 – PDF version
For faster download, we have the PDF version compressed (zipped) here:

SchuyLab User Manual 3.0- Mobi For Amazon Kindle and Kindle fire
SchuyLab User Manual 3.0 – Epub – For Ipad, Iphone, kobo, nook, or other e-readers
SchuyLab Billing Module
The SchuyLab Billing Module is an optional feature of the SchuyLab system. It is rich and powerful module which has so many features it requires it own manual. With this module SchuyLab can directly bill for the procedures it performs, sending transactions directly to government insurance, private insurance and billing consolidators. SchuyLab also receives Remittance (a separate module that is requires Billing) from insurers and consolidators.
SchuyLab Billing Manual – PDF version
SchuyLab Billing- Mobi For Amazon Kindle and Kindle fire
SchuyLab Billing- Epub – For Ipad, Iphone, kobo, nook, or other e-readers